In what was likely one of the last public events before the COVID-19 pandemic lock down, on March 5th, 2020 we returned to Gladstone Hotel in Toronto to award the 2020 Middlebrook Prize. Shauna McCabe, Executive Director of Art Gallery of Guelph introduced two members of the 2020 Prize Jury, Sally Frater and Lisa Volpe, who shared commentary on why Maya Wilson-Sanchez's submission, selected from the over 20 very strong applications was ultimate the prize winner.
On hand to welcome Maya Wilson-Sanchez to the incredible cohort of winners now numbering 10 to date was an engaged group of leaders from the worlds of arts, media and business.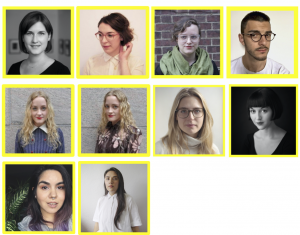 Look out for our 2020 winner, Maya Wilson-Sanchez and her upcoming exhibition Grounding, which will be presented at Art Gallery of Guelph from 17 September to 13 December 2020. We are pleased that the gallery is open, but given the times, there will be no large public opening ceremony.
Below are a video highlights reel and some photos from this gala evening to remember.
Middlebrook Prize 2020 Highlights